Executive Education   "Preparing the next generation of leaders for a global community"
My Work with Executive Education
Working with the international programs of Maxwell's Executive Education has expanded my teaching and research activities. Currently, I am part of the team of Maxwell and Indian Institute of Management Bangalore faculty involved in a large project for the Government of India known as "Phase IV." Phase IV is the mid-career training program of the Indian Department of Personnel and Training. Its objective is to strengthen mid-career Indian Administrative Service Officers' capacity for policy formulation and to assist in the development of a skill set that promotes effective policy implementation. My participation in the program takes place in Korea, where we partner with the KDI School of Public Policy and Management to introduce the officers to policy implementation in the context of rapid economic development. I have learned a great deal from my Indian and Korean colleagues, as well as the officers themselves, about the Korean and Indian development experiences.
Prior to my work with Phase IV, I have lectured for the National Security Studies program, for local government officers from China, and for national civil servants from India and from Thailand. I have also lectured on trade theory for the World Bank Institute's Trade Policy for Development Executives Course organized by the School of International and Public Affairs at Columbia University.
Executive Education is the home of the executive M.P.A. and various 12-credit certificate programs, all geared toward midcareer professionals updating their knowledge and sharpening their skills in a challenging academic environment. The curriculum is designed to meet the needs of professionals and can be customized to fit individual interests and goals. The typical applicant has significant managerial experience and at least an undergraduate degree. Executives come from across the United States and around the world, with backgrounds in government service, the private sector, and nonprofits.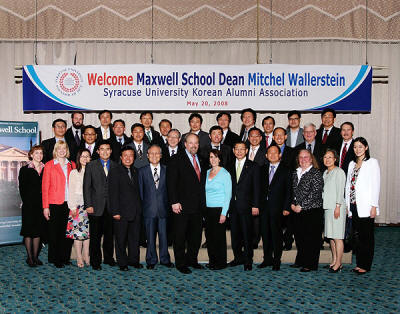 The Maxwell School's Executive Education Programs designs, develops, and delivers more than 20 short-term, non-degree executive development engagements each year. Though the majority of this work revolves around classical classroom instruction with Maxwell faculty leading seminars, delivering simulations, case studies, and lectures – Executive Education also facilitates international study tours. Study tours provide provide representatives of foreign governments exposure and connections to public sector organizations in the United States. In addition, Executive Education acts as the chief facilitator within Maxwell for the School's technical assistance efforts carried out by its faculty and vast network of experts.
The content areas and sectors that Executive Education covers is as varied and as specialized as the breadth of the Maxwell School faculty and its network of colleagues and collegial partners.
Created in 1964, the Executive Education Program at Maxwell School serves as a bridge between the worlds of theory and practice. Executive Education's mission is to prepare the next generation of leaders for the demands of a global community through graduate education, customized training and development programs and capacity building with institutional partners around the world. Participants in Executive Education at the Maxwell School are leaders and managers drawn from governmental, non-governmental and for profit private organizations from around the world.